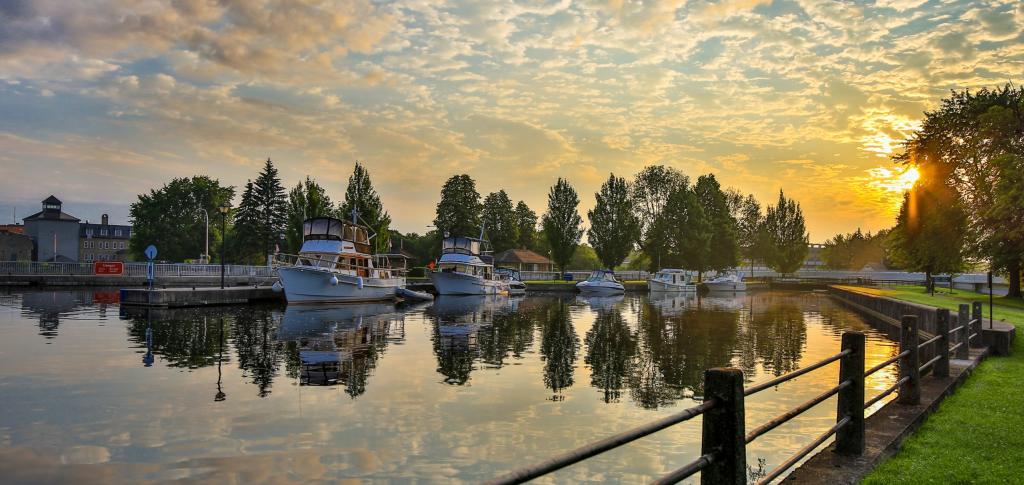 Funding & Partnership Opportunities
The OHTO strives to work collaboratively with its partners in tourism to support a responsible tourism approach that will actively engage our thriving industry and build a stronger, resilient future for our communities. We have three guiding principles we consider for program development and decision-making:
Inclusivity – supporting diversity, equity and inclusion.
Community Alignment – meeting the needs of visitors, while enhancing the quality of life of residents.
Sustainability – providing long-term environmental, socio-cultural and economic benefits to the community.
As OHTO continues through the journey of adopting a responsible tourism approach, we hope to inspire and lead the regional tourism industry and its communities in a sustainable direction forward through specialized programming and resources that ensure supports are available along the way.
If you are interested in learning more about responsible tourism and how you can embrace this approach to tourism, the OHTO team is ready to connect with you and discuss the opportunities.  
Current Funding Opportunities
OH Sustainable Tourism Program in partnership with GreenStep Solutions
Mental Health Training and for Tourism & Hospitality Industry in partnership with Not 9 to 5
To learn more and find out if you are eligible for the above programs, please email OHTO Industry Support
OH Sustainable Tourism Program
In March of this year, the Ontario's Highlands Tourism Organization (OHTO) launched its new OH Sustainable Tourism Program in partnership with GreenStep, a leading organization helping businesses and organizations to measure and improve their sustainability performance.
To leverage this new program, OHTO is pleased to bring the GreenStep Sustainable Tourism Assessment Progam to its members and be able to support tourism operators financially through the process in order to pursue Sustainable Tourism Certification.
The first green step is to complete the Free Sustainability Scorecard to get an idea of where your tourism business or destination is doing well, and where you have room for improvement based on your current performance across four key categories: Management, Social and Economic, Natural and Cultural, and Environmental.
From here, you will have a video or phone call with a team member from OHTO and the GreenStep, to discuss the next steps that are best for where you.
The journey will be different for everyone, and you might just be surprised at how well you score!
Learn more and start the Free Sustainability Score here - greensteptourism.com/free-sustainable-tourism-score/
For a program overview, view the PDF.
How will this help my business?
Tourists are looking for ways to be more sustainable in their travel, and look for ways to verify businesses engaging in sustainable actions. Research shows that businesses who are actively trying to address social and environmental issues in their business retain employees better, and have a more loyal consumer base. All of this works to generate higher returns for tourism businesses by engaging in behaviours that are good for people, the planet, AND profit. 
Sustainable Tourism Program helps you recognize the good things you're doing, and gives you guidance and support to work on the initiatives you want to employ. The Sustainable Tourism Certification shows customers, employees, and fellow business owners that you are doing good things for the world, and have the credibility to prove it. 
Mental Health Training for Tourism & Hospitality
Following the interactive and informative "How to Improve Workplace Mental Health" webinar in March 2022, OHTO in partnership with Not 9 to 5, extended an exclusive offer to OHTO members, providing financial support so members could complete the CNECTed Course and become Certified, at no cost.
Did you know: 
Whether you're a manager or an owner, employers have a responsibility to cultivate a psychologically safe work environment for their staff. Workplaces that avoid discussion of mental health issues are more prone to absenteeism, internal conflicts, and attrition.
With resources and education through Not 9 to 5, you can be proactive in providing your workplace and team with the tools they need.
Faced with the current labour shortage, there has never been a more important time to invest in your employees.
What is CNECTed?
CNECTed is a mental health certification and training program for the entire hospitality and culinary workforce. The program offers skills, resources and tools to learn how to identify, understand and respond to crisis situations and equip employers with vocabulary, tools and coping strategies for improving workplace mental health.
Calling all Hospitality Employers!
Joining the CNECTing community and becoming CNECTed certified will equip you to empower your team with mental health education and a community of support.
Certification is an excellent first step towards improving psychological safety in your establishment. Everyone benefits from committing to improving workplace mental health, including your guests.
To learn more please visit: not9to5.org/cnecting/
To sign up for the OHTO Promo Code to access CNECTing and complete the CNECTed Certification for free, complete this short questionnaire.
A member of the OHTO team will follow up with you in a few days with any follow-up questions and/or provide you with your promo code.
There are still promo codes available - *Promo codes are offered on a first-come, first-served basis*
About:
Not 9 to 5 is a non-profit global leader in mental health advocacy for the food service and hospitality sector. Through practical education and meaningful community-building, they are reimagining the industry by breaking stigmas and fuelling hope.
Their vision is physical and psychological safety for the entire hospitality and culinary workforce. Not 9 to 5 aspires to normalize mental health training, sick leave, workplace accommodations, healthcare benefits, support and resources to all.
Recently Closed Programs
Regional Tourism Relief Fund - Ontario's Highlands
The priority application intake period deadline of May 15th, 2022 has now passed.

On April 6, it was announced that Ontario's Highlands Tourism Organization received a non-repayable contribution of $3 million from the Government of Canada through the Federal Economic Development Agency for Southern Ontario (FedDev Ontario), to deliver the Tourism Relief Fund to tourism businesses in the Ontario's Highlands region.
The  Regional Tourism Relief Fund – Ontario's Highlands (RTRF-Ontario's Highlands) is an application-based program that will help facilitate the recovery and long-term growth of the tourism economy within the region, supporting tourism stakeholder investment into experience development, experience enhancement and destination development programs.
Eligible applicants and projects successfully awarded will be funded based on non-repayable contributions of up to $100,000 for up to 50% of eligible costs for for-profit incorporated businesses and up to 100% of eligible costs for not-for-profit incorporated organizations.   
The fund is open to incorporated businesses, not-for-profit incorporated organizations, municipalities, and Indigenous, First Nation, Metis and Inuit owned businesses, communities, and organizations within the geographic boundaries of Ontario's Highlands. If your incorporated business or organization offers a tourism experience and you are seeking support for an eligible project within Haliburton County, Hastings County, Lennox and Addington County, Frontenac County, Renfrew County and Lanark County we encourage you to apply.   
Click here if you are interested in applying to this program but fall outside the geographic boundaries of Ontario's Highlands. 
We are grateful to be working in partnership with Indigenous Tourism Ontario to further support Indigenous businesses and organizations. If your business or organization is 51% or more Indigenous-owned and controlled, please visit  ITO's Tourism Relief Fund webpage to apply and access additional program support. As the recognized voice for Indigenous tourism in Ontario, ITO's program is customized to the needs of Indigenous communities, organizations and businesses. For questions, contact TRF@indigenoustourismontario.ca 
Funded by: Federal Economic Development Agency for Southern Ontario, visit FedDevOntario.gc.ca to learn more