If you're looking for an easy-to-access grant that offers more than 50 percent cost-sharing, there is one that delivers on both counts.
 The Tourism Recovery and Innovation Program (TRIP) Capital Projects Stream from the Ontario's Highlands Tourism Organization (OHTO) is easy to apply for, contributes 80 percent of the total project cost, and is having a big impact on participating businesses in Ontario's Highlands.
This spring, Bonnie View Inn and Tinhouse Woodworking were among the many tourism businesses that received this funding, and the impacts on their operations have been far-reaching.
The TRIP funding program launched in early 2021 and is an application-based program designed to strengthen resiliency in our tourism sector in response to the COVID-19 crisis. The program is separated into three funding streams: skills development, partnership, and capital projects.
The capital projects stream provides funding for small to medium-sized tourism businesses and offsets up to 80 percent of eligible capital expenses incurred to modify operations, up to a maximum of $20,000. It was to this stream which Bonnie View Inn and Tinhouse Woodworking applied and received funding.
June Wells and her husband, Jeff, are owners of Tinhouse Woodworking and Espresso Bar, and June explained the TRIP program provided much-needed funding at a time when things looked bleak due to the COVID-19 pandemic. Located in Coe Hill, Tinhouse Woodworking added in an espresso bar about six years ago and has been serving as a community gathering space and coffee hotspot ever since.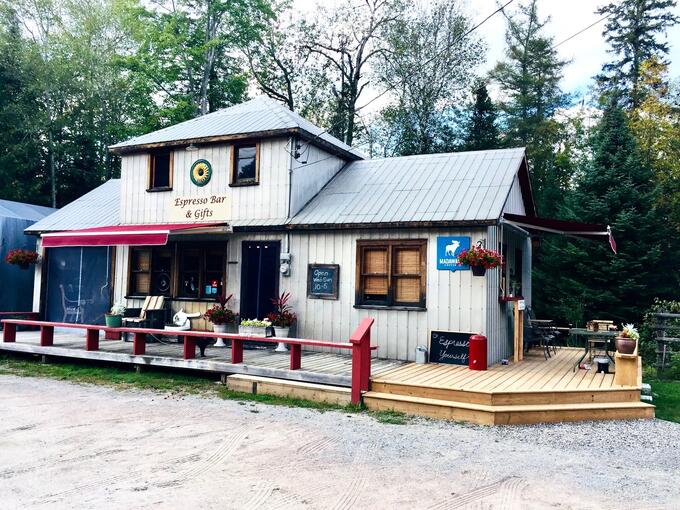 In March 2020, everything changed for Wells' and her operations.
"When COVID hit we did a makeshift take-out window for coffee, but it wasn't ideal," said June, who explained she wanted to create a gathering place, where people could sit and enjoy their coffee and so they could purchase without even having to go inside the store.
June applied for TRIP funding to create an outdoor patio area, complete with tables and chairs and awnings to protect customers from the elements while they sat outdoors."
"I added a new deck along the side of the building and built a great take-out window and espresso bar and added tables for people to sit outside and enjoy their coffee," said June.
The patio turned out to be a big success for the business. June explained that it was not only an added enticement for existing customers, but it attracted a lot of first-time customers because of the additional curb appeal it made for the business.
Tinhouse Woodworking's success is mirrored by the TRIP project at Bonnie View Inn in Haliburton.
Bonnie View Inn has been operating since the 1940s and when COVID restrictions hit which eliminated indoor dining as an option, in some ways the inn was in good shape. A patio (previously a 'boatel') offered a place for diners to eat outdoors, even if spacing was limited.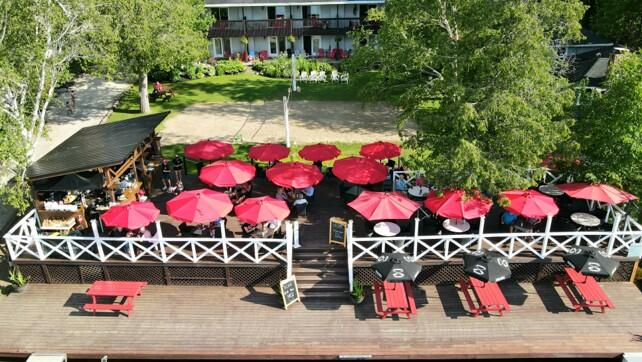 "Bonnie View's patio is a bit of a staple in the area, it's definitely a place people come to in the summertime, and it's the only one of its kind in the area," explained Ryan Yates, co-owner of Bonnie View Inn.
The TRIP grant enabled the inn to increase patio space, improve the layout of the patio to free up additional space, and improve the quality of the food they were able to offer from the patio. In total, they were able to add space for another 30 people to dine outdoors.
At Bonnie View Inn, the patio was hopping all summer long, thanks to the extra space and enhanced experience available.
"We were busy all summer long…unless it was poor weather, we didn't have a slow day," said Ryan.
Both Ryan and June found the TRIP application and approval process stress-free and easy to navigate.
"It was pretty straightforward," said Ryan. "It didn't make us feel like we were having to jump through a bunch of hoops and we received responses to the application quickly."
June echoes Ryan's thoughts on the grant process in general, but most importantly, the benefits of having access to those funds to improve business operations. "I would recommend others to go for it and apply…it does make a huge difference."
About OHTO's Tourism Recovery & Innovation Program – Capital Projects Stream
The TRIP-Capital Grants stream is geared specifically to small to medium-sized tourism businesses to offset up to 80% of eligible capital expenses incurred to modify operations to a maximum of $20,000 in non-repayable funding, including expenses incurred back to June 1, 2020.  Applications to this funding stream are accepted on an ongoing basis until Dec. 31, 2021, or until funds are depleted.
For more information about other available OHTO funding programs, please visit comewander.ca/programs. To apply to one of the TRIP streams, please visit comewander.ca/trip.