Responsible Tourism Journey launches with new branding and marketing channels.
If we've learned anything in the past couple of years, it's that the people of Ontario's Highlands, those who live, work, and visit here, are deeply connected to the region and are committed to working together to protect and strengthen what makes this place we call home so special.   
This is the basis of OHTO's movement towards developing our destination through the lens of responsible tourism. It's an approach that aims to harmonize prosperity and preservation, a critical piece to managing tourism growth across the region, rebuilding a resilient future for our communities, and being mindful of Indigenous Peoples who are first caretakers of the land.
Since the announcement of this strategic shift in the summer of 2021, the OHTO team has been busy incorporating three value principles of responsible tourism into our industry support programs. Principles of inclusivity, community alignment and sustainability have guided how we deliver our initiatives and will shape our tourism offer and community experience going forward. 
OHTO is proud to apply these same principles to our marketing and communications programs with the launch of three notable initiatives:
Refreshed Ontario's Highlands branding to better reflect our values as a destination and organization.
Created two new websites that incorporate our value-based brand positioning and provide better opportunities for engagement with visitors and the tourism sector we serve.
Launching a marketing campaign that provides opportunities for visitors to connect with our values through the promotion of key regional product pillars.
To support the successful execution of these initiatives, OHTO leaned on the expertise of The New Business, an Ontario-based marketing agency with shared familiarity and fondness for our incredible region.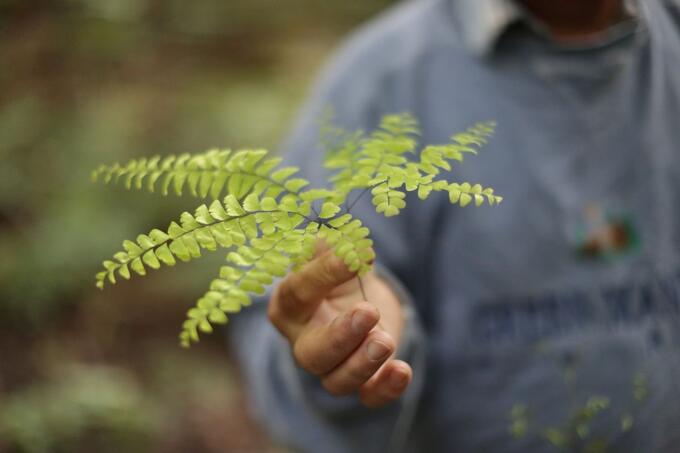 Ontario's Highlands gets a New Look
Understanding the potential of logos to unify, OHTO applied a value-based approach to the creative development process. OHTO's core principles of responsible tourism provided the foundation for our refreshed visitor-facing and industry-facing look. Each logo may speak to a different audience but they both draw from the same underlying message.
New Ontario's Highlands Tourism Organization Corporate Logo 

The colours of our corporate logo are a reflection of our connections to our outdoor environment and the communities built from those connections.  Blue represents the abundance of water we are fortunate to enjoy, green represents our vast untouched wilderness, brown represents the land and the foundation for our spectacular landscapes and red represents our communities, built brick by brick over generations. 
Our region is known for being community-minded and supportive and the past two years have offered further evidence of our collective spirit. This logo reflects the strength of that support in Ontario's Highlands, through the stacked layout which represents "holding each other up."
New Ontario's Highlands Visitor Facing Logo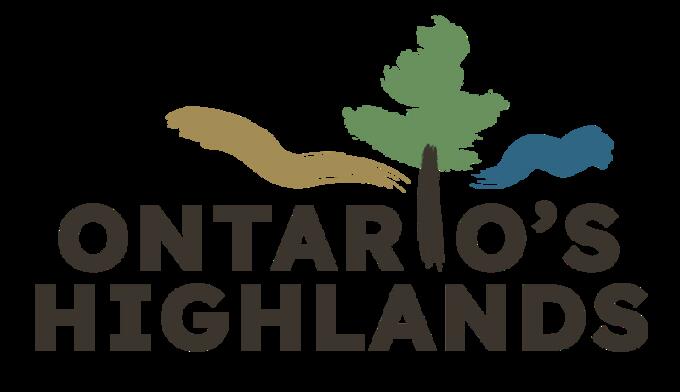 By nature, the Ontario's Highlands region has stunning landscapes, peppered with welcoming communities and people. The new visitor-facing logo communicates this, with our land, nature, and water being represented by the brush strokes and colours, and the sense of 'open arms' of our communities. 
Wander Sustainably
We wanted to create a logo and icon that can be used as a symbol of our commitment to responsible tourism and sustainable travel. 

This Wander Sustainably logo and icon bring our principles of responsible tourism together, with the circle representing Inclusivity, the tree representing Sustainability, and the brush stroke representing Community Alignment. The Wander Sustainably logo will be used on websites and marketing material where we want to highlight either concrete examples of these principles being incorporated in our region or tips and ideas for anyone looking to be more responsible through tourism.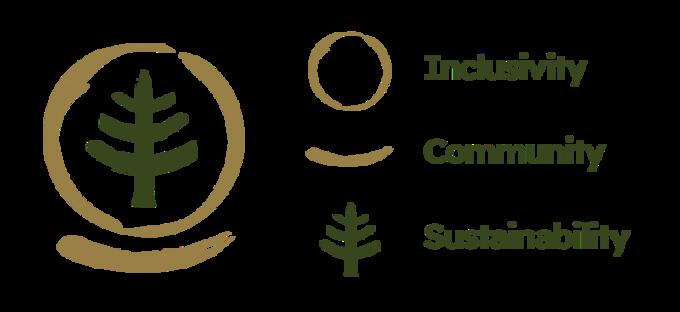 Accessing the New Logos
We are grateful our members proudly display our logos on their websites and other marketing collateral and we know completing a region-wide refresh will require a team effort. To update our logos and/or to highlight where you are being responsible in tourism through our Wander Sustainaby logo, simply email julie.mulligan@ohto.ca 
New Websites
Since the launch of Come Wander in 2017, our website has been a content marketing hub for telling the authentic stories of our region and a resource for supporting our industry.  We are excited to announce the launch of a new visitor-facing website and a new industry-facing website.  Each site has been built with the specific end-user in mind but both complement and share our regional brand story. The development of this key initiative was made possible through generous funding support from Destination Ontario.
While staying true to our commitment to content marketing, these new websites reflect the enhanced branding and utilize on-trend content marketing strategies, all while taking steps to communicate responsible and sustainable travel in Ontario's Highlands. Additionally, the visitor-facing website features a tool that enables visitors to create their own itineraries making it easier than ever to choose Ontario's Highlands for their next travel destination. The industry site has been redesigned to foster a greater sense of belonging among our tourism community and provides better navigation to popular resources and supports.
To visit the new visitor-facing website, please visit ComeWander.ca and OHTO.ca for the new industry-facing website. 
Campaign Launch
We are excited to launch a marketing campaign that connects visitors to our responsible tourism principles by promoting key regional product pillars. Utilizing digital analytics, OHTO worked with The New Business to determine the best digital marketing strategy to engage high-value visitors looking to experience road-tripping, paddling and biking experiences in the region.
Beginning today and running through to March 2023, our campaign aims to raise awareness of our destination, drive referrals to our operators and engage visitors in the rich stories of our region.
Our Responsible Tourism Journey Together
We are excited to be taking these big steps on our responsible tourism journey today!  Will you join us?
Share your story! Tell us how you are incorporating a responsible tourism approach to your tourism offers and we will help share the word.
Be Recognized! Update your websites and marketing collateral with our new logos to showcase your commitment to responsible tourism and to the community of Ontario's Highlands.
Sign up for our industry newsletter! Access valuable updates about upcoming funding opportunities, trends in tourism, and success stories from across our region.
Working together, we can become a premier destination that stays true to the values that makes our region so special and offers benefits to all.
Questions about the information shared today?  Please contact Julie Mulligan, Marketing Director for OHTO, at julie.mulligan@ohto.ca or 613-629-6486 x202.