A new bikeshare project initiated by the Haliburton Rotary Club is getting people moving on bikes while supporting cycle tourism in the Haliburton region. Launched in summer 2022, to date the bikeshare program has exceeded expectations.
Haliburton Rotary Club Project Administrators, Mike Landry and Irv Handler, explained starting the bike share program was one of the Rotary Club's annual fundraising projects to support the community.
The Rotary Club invested $16,000 in purchasing six, seven-speed bicycles, along with a bicycle docking rack, helmets, and rental app. The bike rack was installed outside the Haliburton Welcome Centre and available for borrowing at no cost by anyone at least 18-years of age.
Users are required to sign a waiver on their smart phones and provide a credit card for a security deposit. The bikes are available for use during daylight hours for up to a three-hour rental.
The annual cost for the Rotary Club is the insurance. "Other than that, it's self-sufficient," explained Handler.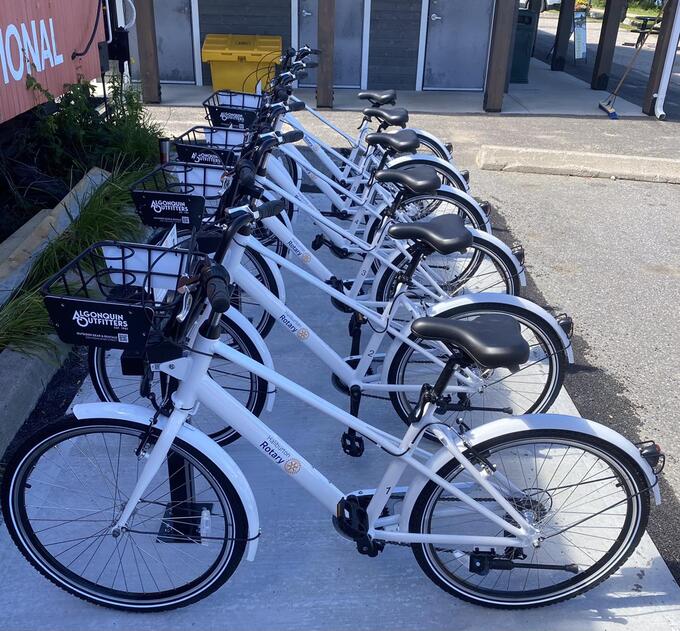 In the first year the expectation was to achieve 42 rentals each week (one bike rental daily), but Handler and Landry were surprised to find that demand for the bikes was higher than expected and there were 50 rentals a week, on average.
"There have been a large number of cottagers and tourists who signed up, people visiting for summer vacation," said Landry. "It's certainly a mixture of cottagers, permanent residents, and tourists who are using the bikes."
The bike share is a real community-driven program and support from Algonquin Outfitters has helped make the program possible. Algonquin Outfitters provides a sponsorship maintenance agreement, to provide maintenance and parts to cover the wear and tear on the bikes. In return, their branding is visible on the bikes and equipment.
Unrelated to the Haliburton Bike Share program, Algonquin Outfitters also offers bike rentals for two fat bikes and mountain bike rentals from their retail location, for a fee.
Landry explained the additional rentals from Algonquin Outfitters "expands our whole biking destination from our touring type easy trail ride bikes."
Funding for the program came in part from Haliburton County, as the project fell in line with the concept of turning the village of Haliburton into a cycling destination.
Based on the success of the program so far, the club is already looking ahead a couple of years in the future and thinking about expanding the bike share to include an additional bike station, along with more bikes, and add e-bikes.
"The bike share has helped demonstrate demand in the community," said Landry.