Article written by Hassel Aviles of Not 9 to 5
UPDATE May 2023: There are a limited number of spots available to take the CNECTed Certification Course for FREE as a member of OHTO. Contact membership@ohto.ca for details.
The term 'mental health' is often misunderstood. Although there is growing global awareness, mental health conditions continue to be stigmatized and given a negative association.
By many, a mental health disorder is described as something to feel ashamed of, or a "problem to solve." In the hospitality industry, conversations on the subject have been avoided for far too long.
The big catalyst for change to this status quo has been the pandemic. Since early 2020, there has been increased interest in being more honest about mental health in interpersonal relationships, mainstream media and even the workplace.
So, what is mental health?
In essence, good mental health is "a dynamic state of internal balance" so individuals can use their:
Abilities in harmony with the universal values of society
Basic cognitive and social skills
Ability to recognize, express and regulate emotions
Capacity to empathize with others
Adaptability to cope with adverse life events and function in social roles. (1)
Mental health is one aspect of our overall health, similar to physical health. Our mental wellbeing is fluid and can fluctuate from stable to unstable and vice versa. Yet industry-wide there is still resistance to investing in workplace mental health even though the data is concerning.
Mental Wellbeing and the Workplace
Psychological safety in the workplace exists when people feel it is safe to show up as they are. It is an environment people where people should feel safe to make mistakes, be vulnerable with each other, give and receive feedback and take risks without any fear of negative consequences as to how they'll be perceived or for their job security. 
Prior to the pandemic, there were already high rates of mental health and substance use challenges in the hospitality and tourism sector and since then the numbers have only increased. In 2021, Not 9 to 5 launched a survey of hospitality professionals that revealed:
84% experience anxiety;
87% experience burnout; 
77% experience depression; and 
63% experience symptoms of disordered eating.
Although our industry has alarming rates of mental health challenges, 67% reported keeping their struggles to themselves and trying not to let it show. (2) The stigma centred around mental wellbeing in the workplace is still alarmingly high and the lack of psychological safety is preventing many from seeking help. 
Studies have shown there is a growing need to prioritize workplace mental health in the hospitality industry. The investment in psychological safety and workplace mental health education needs to be for everyone, especially leaders, owners, managers and anyone who makes business decisions that impact the workplace. 
Why Invest in Mental Wellness in the Workplace
By focusing on improving mental health in the workplace we are helping to protect and unlock the potential of the biggest asset of the hospitality and culinary industry: the people. We have to remember we are not in the business of products or services, we are in the business of people.
There is so much emphasis on the sustainability and ethical treatment of the planet, animals, ingredients, and products that we use and there needs to be the same focus on the sustainability and ethical treatment of people. The sustainability of any organization is best achieved by demonstrating accountability in investing in the sustainability of its people. 
If we don't invest in mental health initiatives for our teams and foster psychological safety, it becomes easier for toxicity to take over. Although low wages definitely need to be addressed industry-wide, a toxic work environment and culture is ten times more powerful than compensation in predicting a company's attrition rate and employee turnover. (3) 
On the opposite extreme, psychological safety and workplace mental health education has many benefits. To name a few, it increases employee retention, creativity, inclusivity, equity, collaboration, innovation and a hefty ROI. 
Every dollar spent on workplace mental health and support for your team is an investment in your business, not an expense. Studies show that employers supporting workplace mental health see a return of $4 for every $1 invested. (4) 
Creating a psychologically safe work environment is the gift that keeps on giving. Not only does this help manage labour issues, workplace culture and employee engagement, but according to Google, one of the world's largest employers, it is also the most important factor for high-performance, productivity and effectiveness. (5) 
Where to Get Started
For anyone wondering how to start, here is a powerful tool important to all of us. It helps us learn how to identify, understand and respond to someone in need. Whether it is a mental health crisis, emotional breakdown or a difficult moment, one of the most important things is to validate what a person feels and remind them it is a natural reaction to challenging events in life that are inevitable.

We can all learn support skills and how to hold space for someone else. This is key because it can help them feel less alone in their experience. Not 9 to 5 developed an industry-specific mental health certification course called CNECTed, and one of the most important takeaways is the ALONE tool.
It is a valuable guide for anyone who has decided they want to address a difficult situation.
Five actions to take to prevent someone from feeling ALONE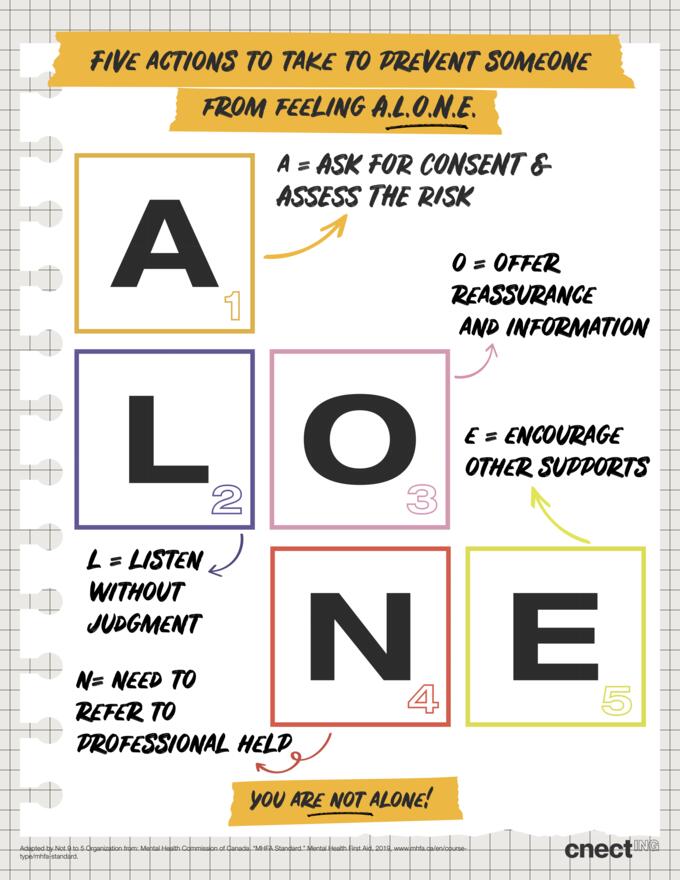 A – Ask for consent and assess the risk. Once you have consent, evaluate the situation for yourself to decide how to best help.
L – Listen without judgment. Practice active listening skills (verbal and nonverbal) without judging or telling the person what to do. 
O – Offer reassurance and reminders. It's helpful to validate the person's experience to help counter any shame associated with seeking and accepting help for mental distress. 
N – Need to refer to professional help, and remind them that you are not it. Remember that everyone has a different need and the form of help is unique to the person and the situation.
E – Encourage other forms of support for the person to help themselves by reaching out to their family, friends or community. Remind them that there are many options for treatment and recovery.
Tools like this one, when put into practice, can empower leaders to take a more proactive approach to address issues and practice active listening. Once there is open dialogue and better understanding, leaders can create mental health initiatives, programming or policies available for all to access anytime that include how to access resources and support. 
Investing in workplace mental health education helps create a more psychologically safe work environment. Part of creating psychologically safe environments as an employer or leader is to be aware and prepared to address such questions, or at the very least make the commitment to seek it out. 
Sometimes the answer is saying 'I don't have an answer to that yet, but I will reach out as soon as I do." 
Invest in proactive programs that promote positive mental health in addition to treatment—this means going beyond delivering interventions for poor mental health to also promote positive mental health and well-being. 
Everyone benefits from expanding our knowledge of workplace mental health. 
Learn more from Hassel Aviles, Co-Founder & Executive Director of Not 9 to 5
CNECTed Certification Course | FREE for OHTO Members
The CNECTed course includes five modules on understanding mental health, stress & trauma, depression, anxiety, and substance use. It offers tools that you can start using right away to help guide yourself or others toward improving workplace mental health.
Complete Not 9 to 5's CNECTed Certification Course for FREE as a member of OHTO. Contact membership@ohto.ca to fill a spot. Note:  Once you register with CNECTing, you have 30 days to complete the course.
About Not 9 to 5
Not 9 to 5 is a non-profit global leader in mental health advocacy for the food service and hospitality sector, reimagining the industry by breaking stigmas and fuelling hope through practical education and meaningful community-building. 
Article References
1    Galderisi, S., Heinz, A., Kastrup, M., Beezhold, J., & Sartorius, N. (2015). Toward a new definition of mental health. World Psychiatry : Official Journal of the World Psychiatric Association (WPA), 14(2), 231–233.
2    Mind Your Health survey report by Not 9 to 5 (2021).
3    Donald Sull, Charles Sull, Ben Zweig, "Toxic Culture is Driving The Great Resignation", MIT Sloan Management Review, January 11, 2022, online editorial: https://sloanreview.mit.edu/article/toxic-culture-is-driving-the-great-resignation/
4    "New Mental Health Cost Calculator Shows Why Investing in Mental Health is Good for Business",  National Safety Council, March 23, 2020. https://www.nsc.org/newsroom/new-mental-health-cost-calculator-demonstrates-why
5    "The five keys to a successful Google team", re:work by Google, November 17, 2015. https://rework.withgoogle.com/blog/five-keys-to-a-successful-google-team