Madawaska Kanu Centre (MKC) is a business that is not only putting lip service to their commitment to pursuing sustainability and supporting diversity and inclusivity, they are walking the talk for both. Recently, 20 visitors and staff gathered at MKC to take part in an Indigenous education workshop that would help them learn more about Indigenous history and gain a better understanding of Indigenous issues. 
At the helm of the gathering was Christine Luckasavitch, who is Algonquin Madaoueskarini, as well as Executive Consultant for Waaseyaa Consulting. Christine explained Indigenous history has not always been told by Indigenous people.
Learning more about how Indigenous were displaced and how they are trying to reclaim their history is an important first step in identifying how we can all work together to provide stewardship for the land and with a better understanding of the harm done to the people who lived here before colonialization.
An example provided by Christine was when the first settlers came to the region and colonial authorities gave away 100 acres of land to new immigrants – land that was not theirs to give. This was the case in the Madawaska region where the workshop took place.
"That land was still Indigenous land," Christine said.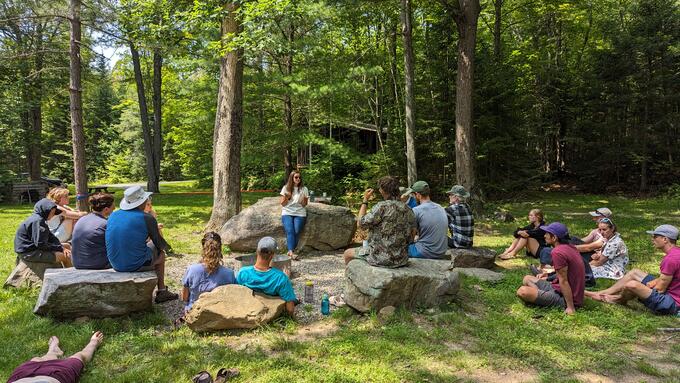 During the MKC workshop, Christine discussed what reconciliation means for both Indigenous and non-Indigenous people, and what it really means to acknowledge that we are on Indigenous land. She pointed out that learning more about Indigenous history of a region goes beyond using an acknowledgement. 
Instead, that acknowledgement should be the first part of an ongoing Indigenous journey that ultimately leads to a deeper understanding and appreciation of place. 
Committing to gaining a better understanding of Indigenous culture is something Stefi Van Wijk from Madawaska Kanu Centre prioritizes, and why she began working with Waaseyaa Consulting and arranged for the workshop to be held there this summer.
"I am so happy to have met Christine who has such passion to share valuable knowledge to enrich everyone's relationship with the river and when traveling in Algonquin territory," Stefi said. 
Moving forward, Stefi is committed to continuing the Indigenous journey she has begun for staff and to provide the opportunity for visitors to take part and deepen their own understanding of Indigenous issues. 
Conceived in 2016, Waaseyaa Consulting was created to enhance the awareness and understanding of Algonquin Anishinaabeg history and culture throughout unceded Algonquin territory and beyond. Waaseyaa Consulting offers a wide array of services, including:
• Cultural awareness training
• Indigenous food sovereignty workshops
• Medicinal plant workshops
• Traditional Algonquin crafting workshops
• A diverse range of Indigenous knowledge-based oratory presentations, research and communications services
• Assistance related to cultural resource management 
• Management of economic development projects
Waaseyaa Cultural Tours offers a two-hour program designed to inform participants of the living history of the Madaoueskarini Algonquin people from the Algonquin Park region. Connect with Waaseyaa staff to coordinate a custom program or join an existing one.