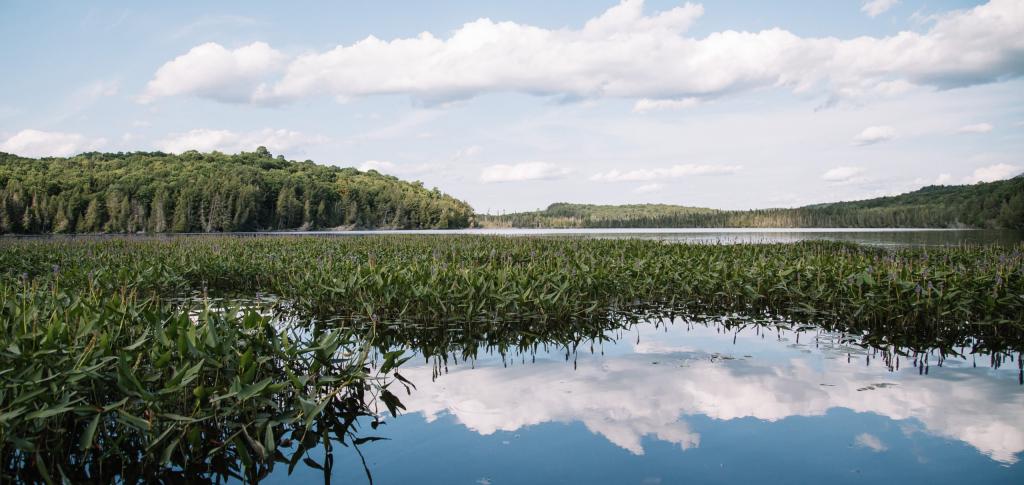 Our Approach
Since establishing in October 2010, OHTO has worked to cultivate a strategic, visitor-centric, and experiential approach to tourism development that strengthens our ability to succeed through collaboration with our industry peers and regional communities. We have also worked over the past number of years on the development of a strong, unifying brand platform that will be used as an anchor to inspire visitation to travel Ontario's Highlands and is representative of the character and variety of incredible experiences across the region. We are encouraged by the outcomes of this approach and the impact it will continue to have the regional tourism landscape and economic advancement of our communities.
As part of our funding agreement with the Ministry of Heritage, Sport, Tourism and Culture Industries, OHTO is responsible for delivering results in four key pillars:
Marketing
Product Development
Investment Attraction
Workforce Development
Responsible Tourism Approach
At OHTO, we strive to work collaboratively with our partners in tourism to support a responsible tourism approach that will actively engage our thriving industry and build a stronger, resilient future for our communities.  We have three guiding principles we consider for program development and decision-making:
Inclusivity – supporting diversity, equity and inclusion.
Community Alignment – meeting the needs of visitors, while enhancing the quality of life of residents.
Sustainability – providing long-term environmental, socio-cultural and economic benefits to the community.
As we continue through our journey of adopting a responsible tourism approach, we hope to inspire and lead the regional tourism industry and its communities in a sustainable direction forward through specialized programming and resources that ensure supports are available along the way.
If you are interested in learning more about responsible tourism and how you can embrace this approach to tourism, our team is ready to connect with you and discuss the opportunities. Click here to connect with a member of the OHTO team.
Authentic Experiences & Storytelling
There have been dramatic changes in the way consumers behave and we know that visitors are motivated to travel by the full experience of a destination, not the individual offerings of one tourism business or product. We also know that seeing the sights is no longer enough. Visitors want to get to know the people and places they are visiting in deeper, more meaningful ways so that they return home with lasting memories from experiences like connecting with the locals, discovering a new skill or learning some new insight.
In order to differentiate Ontario's Highlands, we are embracing an approach that uses authentic storytelling to reveal the depth behind our tourism offers – our beautiful lakes, trails, scenic lookouts, activities, charming communities and businesses – to highlight who we are, what we are, and our unique character. We know our region is rich in this department and it's imperative that we bring these stories to life both in marketing messaging and product offer if we are to inspire visitation to Ontario's Highlands and not only meet but exceed their expectations.
OHTO is committed to strengthening the regional offer to make sure that what we have in our destination lives up to the Brand promise. We have developed, and will continue to develop, programs and resources to support tourism stakeholders across Ontario's Highlands as we strive to enhance visitor experiences, share compelling stories, and build momentum.
Living Come Wander
The team at OHTO developed the regional brand Come Wander, which reflects the authentic character of our communities and the variety of incredible experiences available across the region. This brand platform has been built on the following position:
"Exploring Ontario's Highlands with an openness to wander – both physically and mentally, allows for a spontaneous unfolding of events, activities and people throughout a visit, and delivers a sense of authentic discovery that nourishes the soul."
Come Wander is the foundation for all of our marketing, sales, product development, and partnership activities for the foreseeable future.
As a first step of defining Come Wander, OHTO identified our "ideal visitor" as the Connected Explorer. The Connected Explorer is a confident, youthful, optimistic group, who want to escape from the everyday, enjoy the breadth of local customs, routines and people. They find the best way to relax and reconnect is to disconnect, slowing their pace and letting each discovery along the way become an opportunity to stimulate the senses and nourish the soul.
Careful consideration of the traits, desires and motivators of the Connected Explorer led to the exploration of the most promising consumer insight to base a new brand position on. The rationale was comprehensive.
It needed to resonate strongest with city dwellers.
It needed to stand on its own, and not require a profile event, attraction or destination to support it.
It needed to be relevant to all the various forms of engagement that visitors experience with OHTO operators – on the winding roads, through the woods, along the waterways, and strolling through small towns.
And it needed to be an insight that no other Regional Tourism Organization had embraced, in order for it to lead OHTO to a unique, meaningful and unassailable brand position.
The consumer insight chosen was:
"Sometimes the best way to reconnect is to disconnect, slow the pace, and just wander, letting every new discovery (events, place, people) along the way become its own opportunity to stimulate the senses and nourish the soul"
A set of brand personality traits were confirmed that reflect the desires of the Connected Explorer, the ambitions of operators in the region, and the promise of the experiences in Ontario's Highlands. This brand personality profile will underpin all marketing messages and positioning:
"Ontario's Highlands has a brand personality that: is curious for new things and experiences; is confident, youthful and optimistic; is community oriented; is a leader in doing things and influencing others; is desirous of the interest to collect memories, not things; and finally, is a storyteller with authentic stories to tell."
Identifying this fundamental perspective of what fuels the visitor to find value and interest in Ontario's Highlands led to the exploring of various brand positioning options that not only supported the consumer insight, but also satisfied the needs of the visitor and the authentic experience the region could deliver. In the end, OHTO chose a brand position for Ontario's Highlands that met all this criteria with high marks.
From this, the brand platform Come Wander has been developed as an adaptable platform that allows our tourism partners and operators to share their brand message and reach new audiences through a content marketing approach. This approach allows us to be in constant connection with consumers and to focus on inspiring visitors to Come Wander Ontario's Highlands.